Fat Daddys Destin
October 26, 2015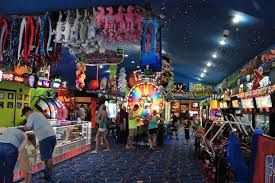 Sometimes, you are just in the mood for an arcade. Maybe it's raining during your Destin vacation or maybe you are tired of the sun and need to spend some time indoors. On the other hand, maybe you just really love arcades and you are dying to go in and win some prizes. Whatever the case may be, Fat Daddys Destin has just what you need. You will be able to play some games in a dry, cool place and maybe show everyone that you are a champ. Even if you don't win any big prizes, it's always a lot of fun at Fat Daddys Destin.
The Games
Fat Daddys Destin has all of the games you could possibly need to have a great time. Do you like skee ball? You can play a game at Fat Daddys Destin. Maybe you prefer Guitar Hero. Again, you can play it at Fat Daddys Destin. You can also shoot some basketball, enjoy some racing games, and more when you play at this arcade. Whether you like interactive games or just want something to occupy the kids you will find it at Fat Daddys Destin.
Grab a Bite to Eat
When you get done playing games at Fat Daddys Destin, you will probably be hungry. Take a minute to claim your prize at the arcade and then head next door to Fudpucker's. Once there, stop outside to see the alligators at Gator Beach and then go in and grab some food. You will be fueled up once you eat, so you might end up going back over to the arcade for one more round before you head back to your condo.
Be sure to stop by Fat Daddys Destin if you need an arcade fix. You will have a blast racking up high scores and winning prizes. 
This entry was posted in Destin Attractions, Destin Florida Activities. Bookmark the permalink.