Golf Garden Destin
December 14, 2015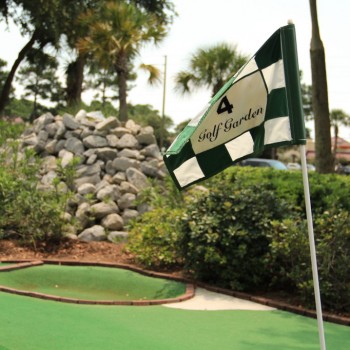 When I golf in Destin, I'm usually in the mood for one of the award winning courses. Sometimes, though, I want to take in a fast and cheap game. This is especially true when it nears the end of the month and I'm waiting for my paycheck to hit the bank. Fortunately, I can play at the Golf Garden Destin. This is a great option if you have the desire to play golf but you don't have the budget to take in a round at Sandestin or one of the other places in Destin. You can get in 18 holes for a fraction of the price you will get at other golf courses.
The Course
The Golf Garden Destin has an executive golf course. You can play 9 holes for $20 or 18 holes for $27.50. If you want to get a cart, you will pay $7 for a half a cart for 9 holes and $9.50 for half a cart for 18 holes. You can also rent a pull cart for $3. This is an affordable way to take in a round of golf.
Putting Course
If you want to work on your short game, you can play the 18 hole putting course at the Golf Garden Destin. The putting course costs $7.75 for adults, $7 for seniors, and $6.75 for children. This is a great way to get better at putting.
Driving Range
The Golf Garden Destin also has a driving range. You can buy small, medium or large bucket of balls at the driving range. The large bucket costs $10.75, the medium bucket costs $8.75, and the small bucket costs $6.75.
It's easy to see why so many people choose to go to the Golf Garden Destin. Save some money and have fun when you play at this course.
This entry was posted in Destin Golf. Bookmark the permalink.