Pirates Island Adventure Golf
April 3, 2015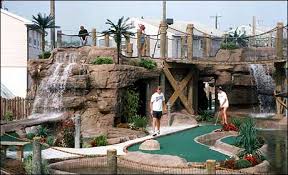 If you are traveling with the entire family, you want to find some activities that everyone can enjoy together. With that in mind, you might want to stop by Pirates Island Adventure Golf. This attraction will provide fun for the entire family.
The Course
The course is on top of the tallest pirate mountain on the gulf coast. That means you will get to enjoy some gorgeous views as you move from one hole to the next. You and your family will play through two buccaneers' caves, along waterfalls, and next to streams. Along with golfing you will go through a pirate adventure as your family searches for Captain Kidd's lost treasure. This adventure is certain to put a smile on everyone's faces.
Rates
You don't have to spend a lot of money to go to Pirates Island Adventure Golf. Adults only pay $11 for a round of golf. Kids aged 4-12 play for $8. Kids 3 and under play for free, as long as they are playing with a paying adult.
If you want to play some more once your round is up, you can pay for an extra round. Extra rounds only cost $5. You can also pay an extra $7 to get to play all day. This is great for large families that love miniature golf and pirate treasure.
Hours and Location
Pirates Island Adventure Golf is open from 9 AM until 10 PM every day. That means you can get a lot of golf in if you get an all-day pass. It is located in Panama City Beach, FL. While that is a little ways away from Destin, it is well worth the trip if you want to enjoy a pirate adventure.
Stop by Pirates Island Adventure Golf if you are in the Panama City Beach area. You will get to enjoy the miniature golf game of a lifetime.
This entry was posted in Destin Florida Activities, Destin Golf. Bookmark the permalink.